MX, Enduro, Rally & Trail riding
Coaching, Training, Tours & Experiences
for all ages & abilities
Our bikes, our kit. Just arrive and ride…
From taster sessions to overnight trips, private, or group sessions, with training packages designed to help you reach your goals safely.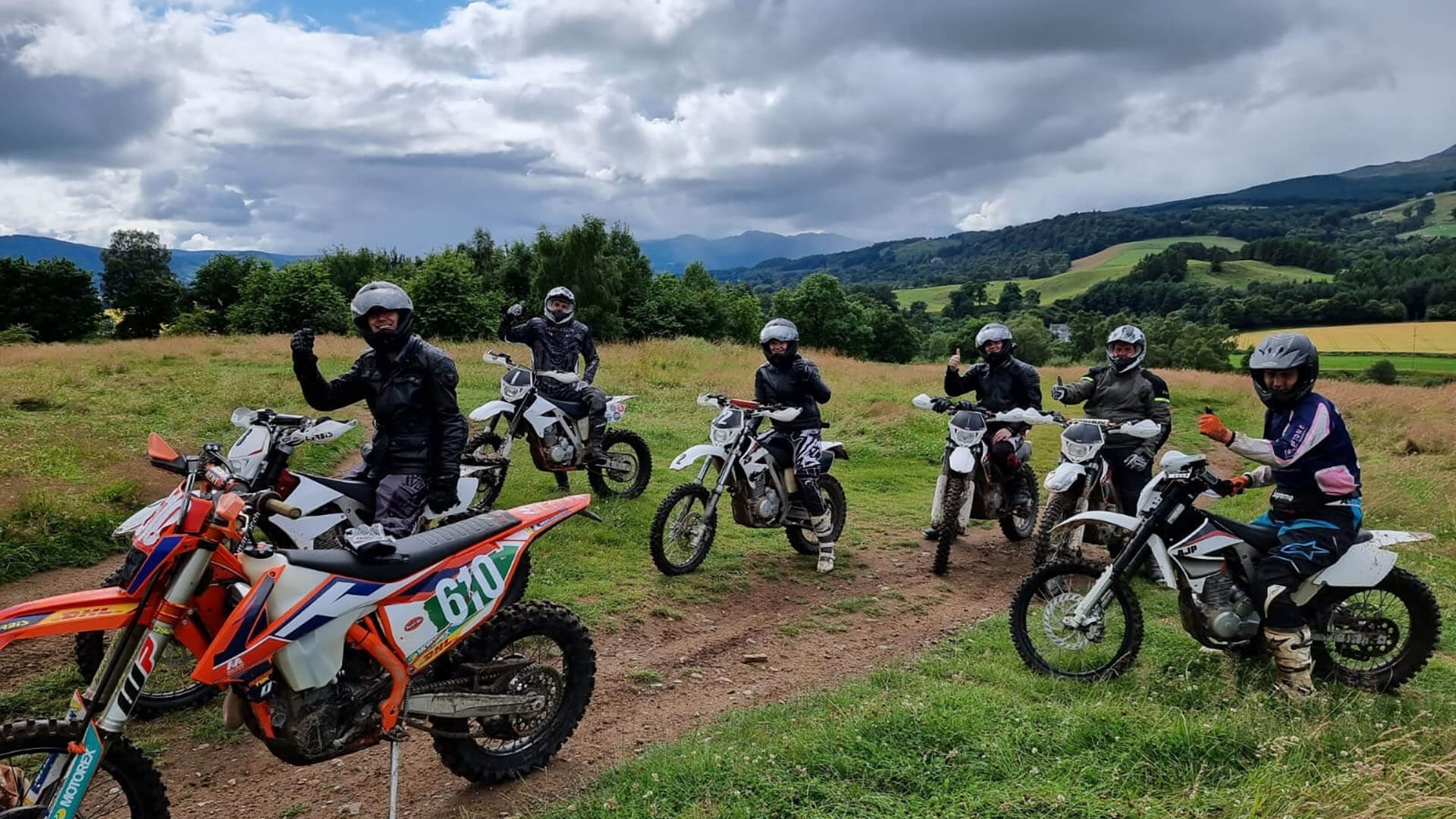 Reach your full potential whether its Trials, Motocross, Enduro, Rally or Adventure, we look at all the factors which may have an impact on your ride, on and off the bike.
With 15 venues across Scotland and partners in Sardinia and Romania… all with accommodation and catering options, we can help you make it a trip to remember!
MX, Enduro & Rally Coaching in Scotland
Train with us on your own bike or hire one of ours with head to toe safety gear from our partners at Wulfsport racing
A past Scottish and British Champion with 8 ISDE gold medals, Kevin Murray has been instructing and coaching for over 20 years and is an ACU Enduro Coach and an MSA (Motor Sport Association) level 2 accredited coach. He invites you to Scotland to come and share his passion and enthusiasm for motorcycle sport.
Latest Sessions, Courses & Events
Join the list of satisfied Riders
"We had an awesome day out, doing a refresher/beginner day with Kevin and the guys. Kevin was a great coach, the day was excellently planned and we had plenty of time to practice and refine the skills we had been taught. Everyone progressed loads, we'll definitely be back Thanks again RORS"
Ross
Recently had a full days riding and coaching with RORS. They really were very accommodating and professional, providing great coaching. Kevin coordinated the event and everyone left with smiles on there faces.
I will definitely be booking more days out with RORS team.
Angus
"Amazing 1 to 1 session with Kevin today. I'm an avid road rider wanting to progress my skills on off road and green lane riding….could not recommend this higher. Quite clearly an expert in his field with really friendly, relaxed instruction. Looking forward to the next class!!"
Daniel
"After several sessions with Kevin and his team I can honestly recommend them to anyone looking to learn and improve.
Kevin is a calm, knowledgable coach who has a great ability of explaining techniques and getting the most from you. Kevin has taught both my daughters to ride a manual motocross bike within the first session and has been great to see them progress so quickly. My own riding has improved greatly under his instruction.
Highly recommend for anyone looking to improve their skills and confidence in a fun environment under the watchful eye of an expert coach."
Bryan
"Had a fantastic day with Kevin doing enduro cross. Learned a lot in one class, will be booking more in the future."
Stuart
"Had a fantastic day with Kevin doing enduro cross. Learned a lot in one class, will be booking more in the future."
Stuart
"Kev's teaching is fantastic. I've learned more and had more fun in one day than 30 years on road bikes. Very professional, bikes and kit provided all top quality too. Already looking forward to going back for more. 👍😁😁😁" – Fiona
"Two extremely technical and very fun days. Looking forward to the next 3 years! Great tuition by Kevin and Ride off road Scotland. Please check him out as he has an awesome setup!" – Veronica
"Cheers Janie, both Kevin and Jay were absolutely superb in their instruction and the additional advice on the bike."
Jamie
"Some private coaching tonight was really good to get back out on my bike. Lots of new skills learned tonight and some homework to practice for next time. "
Harris
"Focusing on skills on the first day really built our confidence and ability to understand what is possible. The second day tackling harder terrain and more remote locations was awesome. 10/10 would recommend. Lucy's cheeks hurt from grinning so much. Thanks again!"
Angus